VPN.ac
Summary
It was a surprise for us to come across this VPN Company, especially because we never heard of it before. After a close inspection of their services we can say that there are some technical issues that can be fixed, but we were mostly satisfied by what they offer. The possibility of using 3 simultaneous connections and the shared IP feature made us like VPN.ac. The main problem remained to connection speed. However, we think that if they'll fix it soon enough, VPN.ac is going to be one of the best Virtual Private Network companies in Europe.
Packages and Pricing
The company has 4 pricing plans, but all of them contain the same features. For a single month you'll have to pay $9, but as the number of months goes up, the price comes down. There is also a money-back guarantee feature, but only for 7 days. If you are not so sure about their services you can go for a trial; this is not free, but it costs only $2 for a single week. It's quite an interesting deal.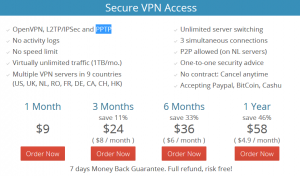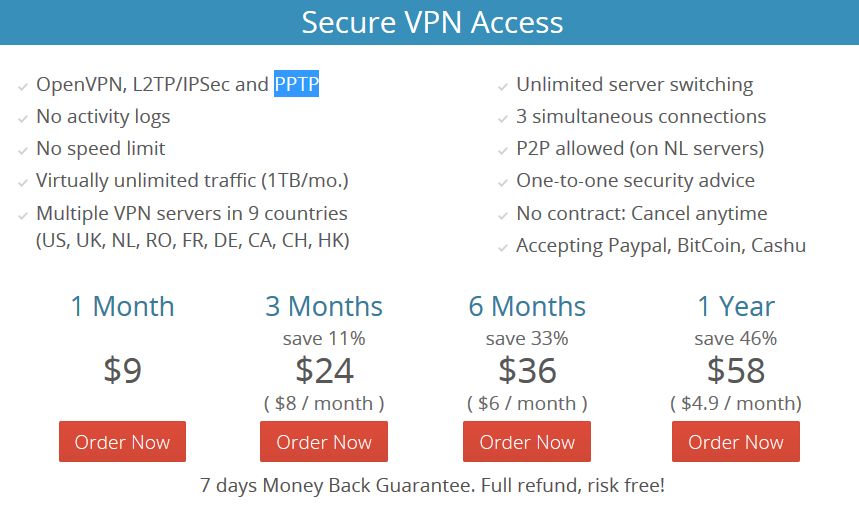 Every package allows you to choose a server from one of the 9 countries available. There countries are located in Europe and North America, but there's one in Hong Kong as well. You can also choose between L2TP/IPsec, OpenVPN(TCP&UDP) and PPTP protocols. We think that the 1TB/month traffic limit is way beyond anyone would ever need.
If you're using Romania or Netherlands servers you can benefit of P2p downloading; you can also connect 3 different devices at the same time. This last feature is crucial, as most of VPN Companies don't implement it.
The website and technical support
On the website everything is positioned as it should be, but the overall design is not spectacular. A cool thing is related to the FAQs section; you can find almost everything you need. The questions are answered in detail, so that's a big plus. There is also a blog section in which you can read interesting topics. Last but not least, there's the VPN Node Status with all the information about server load.
In terms of customer service, we are really impressed. You can choose from e-mail, Live Chat, Skype chat or Ticket System. We tested the service by using the last option. In just a minute we received a highly detailed response.
In terms of service you can also find the 'Knowledgebase' section. However, there are not many things to see at this point. But perhaps in the future it will be more populated.
Privacy Policy and Security
As we read the Privacy Policy, the conclusion was that it's nothing to worry about. There are no such things as log files which record client's activity. On the other hand, there are some log files which keep minor details such as real IP address, traffic transferred during a session and the connection starting time and ending time. These log files serve as an extra security measure for VPN.ac, but they are deleted regularly. We know that it would have been better if there were no log files at all, but we don't consider them to be a threat, especially because they're deleted pretty often. According to EU law which applies to Romania, VPN.ac is not forced to keep log files.
There's a small issue when it comes to security. The encryption method for OpenVPN is 128-bit and the encryption for L2TP/IPsec is 256-bit. As recent studies show, the 128-bit encryption for OpenVPN is to be avoided, and the L2TP/IPsec should not be used at a security method anymore. There's quite a problem if you're planning to transfer important data through your connection. However, don't imagine that 128-bit OpenVPN is easy to hack into.
Despite these issues we reckon that the OpenVPN 128bit and L2TP/IPsec 256bit is enough for people's needs. Due to the fact that shared IP addresses are used, it's impossible to locate the traffic of a particular person, especially that there are no log files. One on top of the other, VPN.ac has some great security measures.
The process
Signing up
In the signing up process you need to use your real name only if you're planning to pay via PayPal. As we paid through Bitcoin, we afford to use a random name and e-mail address. The complexity of the process is kept to minimum.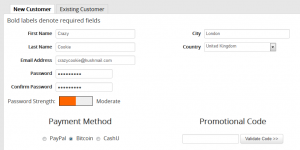 As soon as you complete the process, you'll find more details on e-mail.
The Windows client
On the client side you don't need to expect complicated things like port forwarding, DNS leak protection and VPN kill switches. The software used the same on all platforms and it's also open source. The positive side about being open source is that anyone can inspect the code behind the application, so it's less likely to contain any hidden, unwanted 'features'. The steps to follow are below.
First thing is to do is to download and install the OpenVPN client.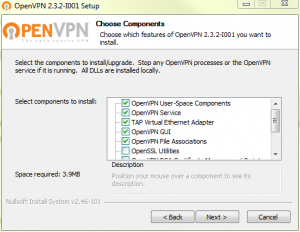 Next, download and place the config files in the /config folder of the installed client. Personally we went for the UDP files, which are default. Other files can be found on VPN.ac's repository.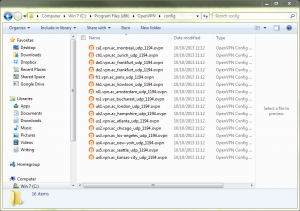 In order to get the OpenVNP client running, double click it from desktop. It will automatically create an icon in the notification bar. Right click on it and then select a server to connect.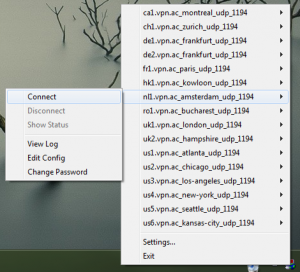 In your e-mail inbox you probably already found a username and a password. You'll be prompted to type them now. As soon as you did this, you'll see that the icon in the bar turned green.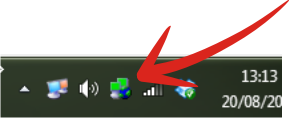 Other Platforms
The company gives clear setup instruction and even some video tutorials in order to configure the VPN client on various operating systems, including Windows, OSX, Android, iOS and Linux. You are not forced to use third party software for PPTP and L2TP; the VPN client uses the operating system's capabilities. However, for OpenVPN, you need to download free open source software.
In case that you need to set up a DD-WRT router, you'll have to contact the support team. We did so and they provided us detailed instructions.
While reading the FAQs section we noticed that the company is currently working on a different type of VPN client, one that should be more advanced.
Performance
It was time for a bit of testing, so we used our 20MB UK broadband to test the speed.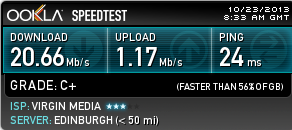 Without VPN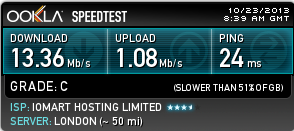 With VPN, connected to a UK server.
Keep in mind that our results were fluctuating, so you should perform more.
This is our best result.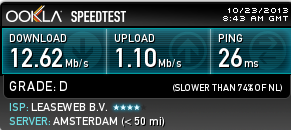 With VPN, connected to a Netherlands server.
As you can see, not the best results you'll ever get from a VPN company. It all comes down to the connection speed you have before opting for a VPN. There's quite a speed loss, so it's up to you to decide whether this service is good for you or not.
The company claims that the service has been specially optimized so that L2TP/IPsec brings the fastest performance. Unfortunately, we don't think that this protocol is secure, so the only option is to sacrifice some speed for some extra security. The L2TP/IPsec might become secure if someone would spend enough hours trying to implement it correctly.
As you can see, we performed a quick DNS test and the company did great.
Botttom Line
Positive aspects
Shared IP addresses between multiple users

Pay with bitcoin

Romanian-based

Have up to 3 simultaneous connections

Good customer support team

P2P downloading from Romania and Netherlands servers

Complete website

Privacy policy
Still to work
Speed test results were not impressive

Encryption method used on OpenVPN

Lack of port forwarding

No signs of company's existence outside the internet domain
Negative aspects
Probably it would be fair to place the speed here, but it's up to you
Even though we came across this company accidentally, we have to admit that we're impressed. The policy side is a strong plus, especially because of the robust privacy policy. Due to the fact that you're allowed to connect from up to 3 different devices at the same time, VPN.ac impressed us even more. The great support for customers plus the bitcoin payment method represent a bonus.
Perhaps we would like to see better encryption methods used as standard, but perhaps they'll fix it sometime soon. The connection speed is also a point to be improved.
Perhaps the most important thing, as a company, is to work with your customers. All the other issues can be outcome if the support team is doing their best. And at VPN.ac we actually came across this thing. In other words, it's a great VPN provider.