Nord VPN
Summary
One of the most recent VPN Company comes from Panama and offers a large variety of services. They use excellent encryption method and a good policy when it comes to logs. On the other hand, the price and the speed are not the best you'll ever see. A positive aspect is that the customer support is quick and reactive. Even though the price is a bit spicy, we can't say that it's exaggerated. Our experience was made better by the fact that there were no technical issues.
Pricing and features
All the pricing plans offer the same advantages; the most expensive plan doesn't come with extra features. It's all about saving money if you go for a long period of time.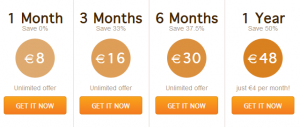 As you can see, for one month you have to pay 8E, somewhere like $11.
No matter which package you choose, it includes access to servers located in Europe, Hong Kong and US – the total number of countries is 15. The protocols used are L2TP, OpenVPN and PPTP. There is also the possibility of connecting to servers using proxy settings. This is extremely useful if you're planning to run a single program, instead of routing the entire connection through the server.
The company allows you to use maximum 2 devices at the same time. We've seen better companies, but it's still better than just one device.
About P2P downloading we should say that NordVPN is supporting BitTorrent.
In terms of IP addresses, they are usually dynamic. However, if you need a static one, they will provide it.
NordVPN offers a 3 day free trial and a 48 hours money-back guarantee.

The website and customer support
About the website, it's a pleasure surfing on it. All the necessary information are easy to access. The design is clean. There's a FAQs section, information about the company and all sorts of tutorials. A beta project is represented by a knowledge base, but there's not much talking going on at this moment.

You can also find information about NordVPN servers. There is a load percentage bar at their server status page and also a quick idea whether the server is set to accept connections using different VPN protocols. Even though it's not very detailed, we were more than happy with it.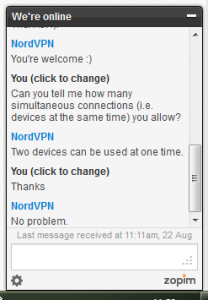 When it comes to support, you can choose between Live chat or e-mail. We asked several questions on the Live Chat method and the response was prompt and informative.
Privacy and security
We came to the point in which NordVPN performs well. First, the security methods. The OpenVPN protocol encryption is using 2048bit SSL variety method. For PPTP is MPPE-128bit and for L2TP, they use AES-256bit encryption. Remember that it's always a good idea to avoid PPTP if you can, because this is not the most secure protocol you'll ever find.
In Panama there are no such things as data retention laws, so this is a perfect place for a VPN Company. As a result, they don't keep any log files at all. We were glad to see that the Bitcoin payment is available. We always considered that to be a sign of a good company – at least in terms of VPN services. It's great because it allows the user to be anonymous during the payment process.
When it comes to security measures and privacy policy, the company scored top marks.
The process
Signing up
We were happy to see that the signing up process takes under a minute; just a username and an e-mail address are required. Other payment methods include Payera and PayPal. We decided to pay via PayPal this time.
In just a few minutes, we got the confirmation e-mail from NordVPN. Your account will become active as soon as they receive the payment confirmation. You might get several links to configuration files, but in our case were broken. However, we got all what we needed from the website without any issue.
The windows client
They now have their own custom software with a lot of security solution techniques. We were very happy to see this improvement. They were using an openvpn client before.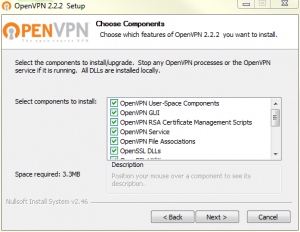 The download and the installation process
Configuration files. Unzipping them to /config folder of the OpenVPN.
On the next step you should right click on the icon in the notification bar, but after you run the OpenVPN client. Next, select the server and the protocol. It is good to know that TCP is slightly better, as it uses error corrections, making it more reliable. However, it's a bit slower than UDP.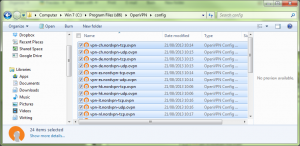 Last but not least, you should sign in using the ID and password provided in e-mails. To make sure that everything is working as it should, check the icon in the notification bar; it should be green.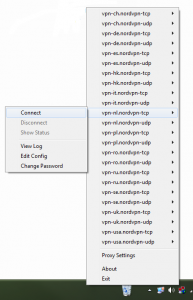 Performance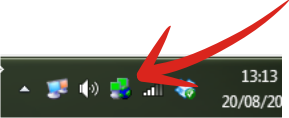 As usual, we performed a few tests using the 20MB UK broadband. Unfortunately we were unable to test it on the UK server since it was not accepting OpenVPN connections. However, by the time you read this review, the problem might have been fixed. Coming back to tests, we did several on other servers.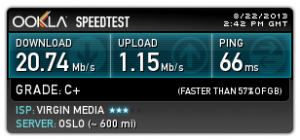 No VPN using Oslo server Connected with TCP on Sweden server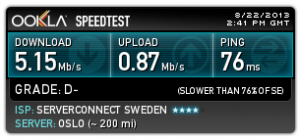 Connected on the Sweden server using UDP Connected on the Netherlands VPN server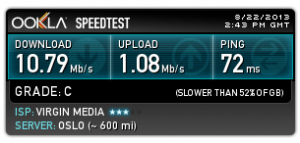 Terrible is the proper word to describe some results, but the one performed on Netherlands server was quite good. Maybe you should test every single server to find the best connection for you. On some problems we encountered problems at connections. But because there are a lot to choose from, we were not too concerned about this issue.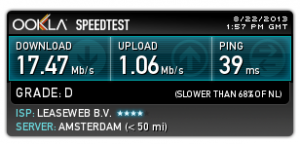 The test for DNS leakage went perfect.

Other platforms
There is a large variety of tutorials found on the website. They are split in categories for each operating system. You can set up the client on Linux, Windows and OSX. The free, open source software is used for all the operating systems.
On the website you can find only PPTP and L2TP support for iOS and Android, but we think that Open VPN Connect for iOS and OpenVPN for Android should work just fine.
Bottom line
Positive aspects
The P2P availability

No log files at all

Bitcoin payment

256bit encryption for OpenVPN
Still to improve
The lack of a private client

Price

Fluctuating speed test results. Also we were unable to connect on all servers
Negative aspects
The truth is, we would like to see more of this company's features. The privacy policy is great, and so is the security. However, the connection speed is not as good as we expected. We couldn't find an explanation for the fluctuating results, so we have to say that NordVPN needs to improve here. There is also the price, which can be a problem for some of you. The lack of a professional client is also a sign of weakness. However, due to the fact that the company uses no log files system, we believe that they are quite good.