Cactus VPN
Summary
Cactus VPN is a relatively small VPN company that is located in Moldova. We are happy to mention that they are pretty good at what they do: great encryption methods, fast connection, great privacy policy and a helpful support team. Even the VPN client has a unique feature called 'Applications Kller'. But as nothing is perfect, there are some issues here. The company keeps some log files for 3 days and there's a sharp limit in the number of devices on which you can connect to server at the same time. But, overall, it's a great experience using their services and we definitely recommend it.
Pricing and Plan Features
First of all we must say that there are three servers, located in UK, US and Netherlands. There's a separate pricing plan for each of these servers and it costs $4.99/month. The last pricing plan includes all the three servers; in addition, you gain access to company's SmartDNS service. This plan costs $6.99/month. As an extra option, you can buy the SmartDNS service alone for $4.99/month.

As you might expect from a decent VPN Company, CactusVPN gives out a 24 hours free trial. In this period you have full access to any possible service. The fact that you can actually test before handing over any money it's welcoming.
No matter what plan you choose, you are able to connect via OpenVPN, SSTP, PPTP, L2TP/IPsec and by Proxy. In addition, you get the AutoProxy feature – we'll talk about it soon.
You can also use P2P downloading and it's working great, but only through the Netherlands server. A downside is that port forwarding is not offered.
Simultaneous Connections
Things are a bit odd, even strange, when it comes to their policy, especially the multi-device section. You can't connect more than 1 device to one server at a time. However, if you chose the last plan, you know that there are 3 servers. So, you are able to connect a different device to a different server. For example, the PC to Netherlands server, the smartphone to US server and tablet to UK server.
This feature is better than the single device limit imposed by most of the providers, and it's worse than the no-limit offered by others. But remember, if you choose one of the first three pricing plans then you can't benefit of this feature.
The website and customer service
From the very first time when we entered on the CactusVPN website we knew that they are a professional team. The design looks great and the sections are clearly separated. You get a lot of guides in the support area and the FAQs section answers to general questions about VPN. However, in order to find out more details you need to contact the support team. They did well and answered our questions in a decent time.
Even though we encountered some unexpected problems while using their VPN service, we are glad to say that the customer support was helpful once more.
Privacy and Security
When it comes to privacy, apparently there are no log files kept which record user activity over the web. On the other hand, there are some logs that record details about the connections. They say that this is helps troubleshooting potential problems. Even if we'd rather prefer a VPN with no logs at all, this measure is acceptable. There's no way of paying anonymously on the website; the bitcoin method is not accepted. Unfortunately, we were used with this payment method and we realized that if the provider allows this type of payment then it takes privacy serious.
We tried a lot to find out more about data retention laws in Moldova, but we were unable to find anything at all. We draw the conclusion that there's little interest in what happens with VPN providers in Moldova. This makes the country a great place for this sort of businesses.
A positive aspect is on the security measures side. CactusVPN uses 256bit SSL key encryption on SSTP, 256bit AES encryption with 2048bit key authentication on OpenVPN and 128bit/256bit encryption on L2TP/IPsec.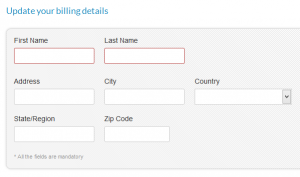 In this section, the only real downside was the bitcoin payment method.
The Process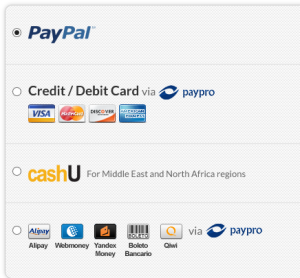 If you're planning to try the service for free, all you have to do is enter a name and an e-mail address. However, if you want to purchase any of the pricing plans, you need to enter more details.
There is a variety of payment methods to choose from, except from Bitcoin, of course.
The Windows client
The windows client is looking more like a mobile phone application, but it's extremely easy to use and intuitive. There are options for server country and protocol. We assume that the other two protocols except OpenVPN were placed there just in case, because the OpenVPN is, by far, the safest.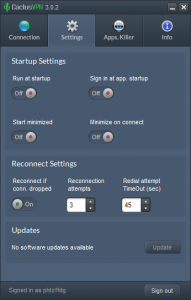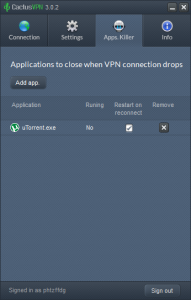 Now, a quick look on the settings side.
The 'Application Killer' is something really interesting. On some other clients we encountered an internet kill switch, but this is even better. The Apps Killer closes only specific applications which might slow down the speed of your connection. This is the most effective way of saving time and speed so far.
In our uTorrent test, the Apps Killer did what he had to do. After we ticked the 'Restart on reconnect' box, our application was successfully restarted after reconnection.
Other Platforms
This client can be also found on all the OSX versions. On the CactusVPN website you can find a large variety of guides which let you set up Windows, Ubuntu, OSX and even DD-WRT routers.
If you're using a smartphone or a tablet with iOS or Android, the guides for PPTP and L2TP/IPsec are your best friends. However, you should be able to use OpenVPN for Android / OpenVPN Connect without any issue.
On the same website you can find various tutorials for SmartDNS and Proxy Setup.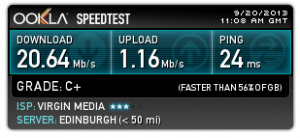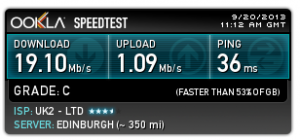 Performance
It was time to do a little bit of testing on our 20MB UK broadband connection.
This is what we achieved without VPN
This is what we achieved connected on the UK server
And this is what we got on the Netherlands server
As a matter of fact, the results are pretty impressive.
In order to make sure that there's no such thing as DNS Leakage, we performed a test.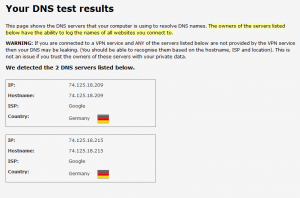 Judging by the fact that we were connected to the NL server, from the UK, the results are great.
Smart DNS
As we said at the beginning of this review, there's the possibility of opting for a DNS service.
What does this mean? Well, the company translates the physical address (www.whatever.com) into an IP address used by computers. In other words, they resolve your DNS requests whenever you make a request on a webpage. The point of all this is to give you a fake location; for someone who is trying to monitor your traffic, you'll appear like you're surfing from Netherlands (or from what server you're connected to).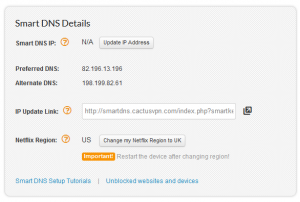 As you probably know, there are some websites which display the message 'video not available in your country' when you're trying to play a media file. The purpose of Smart DNS is to get rid of these restrictions. Using VPN, no encryption methods is involved, and the connection is faster.
Some of you might find the process of setting up the SmartDNS a bit challenging, but it's well explained in guides.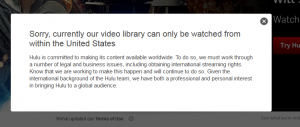 If you know exactly what you're searching for, the SmartDNS works just fine. However, if you're trying to play media that would normally be allowed, you might be forced to switch back the settings. This can be annoying sometimes.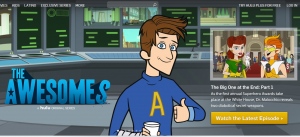 We accessed Hulu without the Smart DNS
We accessed Hulu after applying the Smart DNS settings
If you are planning just to watch media files from abroad then it would be understandable to constantly switch the DNS settings. But, as it's probably not the case here, you shouldn't bother changing the settings constantly. The VPN alone allows you to stream files from different parts of the globe.
Auto Proxy
In a normal review we wouldn't bother explaining about proxy service. However, Cactus VPN's Auto Proxy caught our attention from the very first time we saw it at work.
Most proxy services just keep changing your IP Address for every site you go to. On the other hand, Auto Proxy lets you configure the browser as you wish. You can set a list of websites for which you want the IP to change. For all the other websites, the IP will be the same and your surfing experience will be better.
Bottom line
Positive aspects
Extremely fast connection

Really cheap

Auto Proxy feature

Great client with the Apps Killer feature

P2P downloading

256bit encryption
Still to improve
No port forwarding option

Smart DNS still can be better – annoying to keep reverting the settings

Partial log files kept

Multiple devices at the same time

Lack of OpenVPN support for Android & iOS
Negative aspects
No bitcoin payment allowed
To draw a quick conclusion we have to say that we enjoyed Cactus VPN. Depending on your needs, the privacy policy is great, or just good. Great marks when it comes to the Applications killer, as well as about the encryption methods. The guides explain clearly all you have to do. Perhaps in the future they will include an Android / iOS guide, and then the set will be complete.
A major problem remains the one of connecting multiple devices. In Europe that is ok because you can connect one to the UK server and one to the Netherlands server, but what about US? They really need to do something about it.
You might consider this unimportant, but the lack of Bitcoin payment method is a downside. Overall, we can say that it's a great service.